So as an avid traveler, why should I know more about Quy Nhon – a strange name on the travel map of Vietnam? Look at the pictures of Quy Nhon below and you'll know why you don't want to miss this beautiful coastal city during your trip to Vietnam!
Quy Nhon is a seaside city in Binh Dinh province, lying not so far from other famous Central Vietnam's destinations such as Da Nang, Nha Trang and Mui Ne. We made a 3-day trip to Quy Nhon in October, 2015 thanks to a hotel voucher gift, and quickly realized how heavily underrated the city was. Here are some of my Quy Nhon Vietnam travel tips including things to do in Quy Nhon, how to get to Quy Nhon and so on.
Attractions in Quy Nhon: Things to do in Quy Nhon?
Here is a list of attractions in Quy Nhon for first-timers, and of course it's not all about the sea.
The Queen Beach (the egg beach)
Have you ever seen a flat and smooth natural egg-shaped stone? While such a special stone is often scarcely seen, you will find MANY of these on the Queen Beach. They come with different colors, making the whole beach look like a beautiful playground. Here are some snapshots of these.
And by the way, the Queen Beach took its name after a visit from the then Queen of Vietnam (Nam Phuong Queen).
The beach is located inside Han Mac Tu Memorial Park. Han Mac Tu is a famous poet in Vietnam in the 30s. He died from leprosy at the age of 28 and was buried inside this park.
Mini deserts
There's an area in Quy Nhon Vietnam where you can see many sand hills on both sides of the road. Brought together by the sea wind, these hills form spectacular mini deserts where local people and tourists sometimes come over for fun activities such as downhill sliding.
Eo Gio (The Windy Pass)
Eo Gio is certainly my favorite attraction in Quy Nhon. It would have taken us around 30 minutes to ride from our hotel near the city center to Eo Gio on our motorbike; however, the roads were surprisingly spacious and deserted so we arrived there in only 20 minutes.
Eo Gio is a well-arranged natural structure of rocks, hills and sea. You can climb up one of the hill tops to behold this awe-inspiring landscape. Be careful though as winds here are very strong, which forms the basis for the attraction's name Windy Pass.
You can also go downhill to be closer to the sea. There is no beach here, only stones that form a border between the sea and the land. Although it was midday when we arrived at Eo Gio, being at the foot of the hill brought us a refreshing chill from the sea air.
Fisherman village
After exploring Eo Gio, you can also visit a local fisherman village nearby. Don't be surprised to find only women and children here, as the fishermen often sail away rather than stay home. It'll be nice if you have a translator who can help you start some interesting conversations with these locals. Otherwise, enjoy the peaceful atmosphere here!
Ky Co Island
Ky Co Island is a beautiful deserted island close to Eo Gio. Some local tour companies such as quynhontourist.vn or dlmt.vn organize daily trips to Ky Co island. However, the weather is not always safe to go there so you'd better call to check with the tour companies first. I'm not sure how much English they understand so you might want to ask your hotel receptionists to call them for you. Often the best time to go to Ky Co Island is from April to September.
I don't have any photo of this island to show you here, as the bad weather prevented us from sailing there last October. However, just google the name and you'll find many interesting photos of this pristine island.
Thap Doi – Champa Twin Towers
Built from the 10th to 15th centuries, these towers belong to the old Champa Kingdom with a height of around 20 meters. Decorations from the towers took inspirations from old tales in Hinduism. If you have been to Angkor Wat in Cambodia, you might feel a sense of Siem Riep here when visiting these two towers in Quy Nhon Vietnam.
Practicalities: Travel to Quy Nhon
How to get to Quy Nhon?
Flights to Quy Nhon
We arrived at Phu Cat Airport in Quy Nhon after a one-hour flight from Hanoi. There are daily flights to Quy Nhon from Hanoi and HCM, operated by Vietnam Airlines, Vietjet Air and Jetstar Airways. From Phu Cat Airport, you can take a shuttle bus directly to the center of Binh Dinh with the price of 50 000 vnd per ticket. Just go out of the airport checkout area and there will be people coming to fetch you to the shuttle bus. Remember to note down the pickup address of this shuttle bus in Quy Nhon center for your return trip back to the airport.
Alternatively, taking a taxi can cost you up to 300 000 VND, especially when you can be cheated sometimes by the driver.
Train to Quy Nhon
There are daily trains to Quy Nhon from Hanoi (SE1, SE3 – fastest, SE5, SE7) and HCM as well (SE2, SE4 – fastest, SE6, SE8, SE26). All these trains (except from SE26) also connect Quy Nhon and Nha Trang, Phu Yen, Hue, Da Nang, Hoi An, etc. If you want to travel from Hoi An or from Nha Trang to Quy Nhon for example, just board one of these. Note that the train's departure time can be very early in the morning. Here you can find the timetable for all trains to Quy Nhon (sorry only in Vietnamese).
To travel to Quy Nhon, you need to stop at Dieu Tri Train Station. From here, you can take a taxi to Quy Nhon center at around 250 000 VND.
Coach to Quy Nhon
Check out daily coach / bus to Quy Nhon from Hanoi or HCM at vexere.com. You can also book and pay online here.
The bus journey from HCM or Hanoi to Quy Nhon is quite long (around 15 – 18 hours). If you opt for this means of transport (which is 2 times cheaper than taking a train), it's better to choose a night bus with berth for your comfort.
For more information about public transportation in Vietnam, check out this very useful guide HERE.
Get around Quy Nhon
We recommend renting a motorbike to travel around Quy Nhon. The city is not too big and the furthest attraction is only 30-minute-drive away. A motorbike costs around 100 000 to 120 000 VND per day for rent.
Addresses for motorbike renting in Quy Nhon:
0914 737888 (Mr. Trung) – 214 Nguyễn Thị Minh Khai
0916.96.75.12 (Ms. Sang) – 75 Trần Anh Tông
0982.255.713 (Mr. Trọng) – 29 Lữ Gia
It's pretty easy to get around the city by motorbike. We checked google map and asked the locals whenever we thought we got lost. The locals were super friendly!
Quy Nhon accommodations
There's a wide range of Quy Nhon accommodations which you can choose from: homestay, 1 – 5 star hotels, luxury resorts etc. We stayed at Muong Thanh Quy Nhon Hotel and though it was promoted as 4-star, we didn't quite think this hotel's standard matched that ranking. My friend stayed at Hoang Yen Hotel 3 (sea view) and was quite satisfied.
If you have a larger budget, why not consider these 5-star hotels and resorts in Quy Nhon?
Seaside Boutique Resort Quy Nhon
Below are some highly-rated 3-star and 4-star hotels and resorts in Quy Nhon.
Seagull Hotel (beachfront)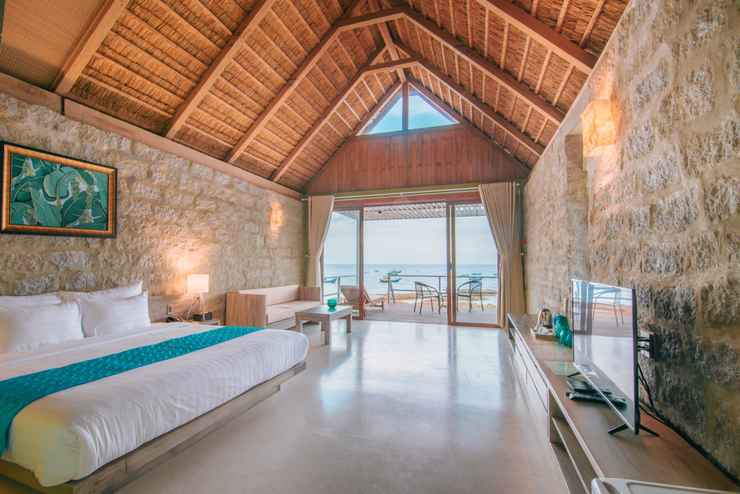 Huong Viet Hotel Quy Nhon (beachfront)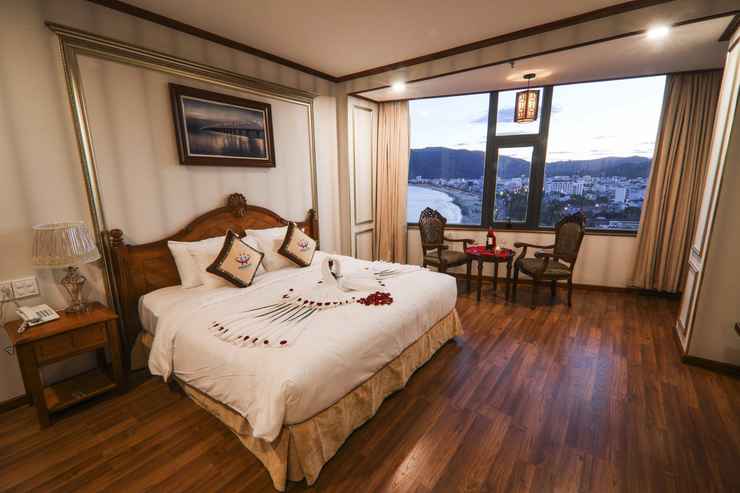 Food in Quy Nhon: What to eat in Quy Nhon?
I forgot to mention the food! There are certainly lots of fresh seafood in Quy Nhon and the price can't be more reasonable. Tip for you: Seafood costs even less around the Eo Gio area!
There's also a traditional dish called banh trang cuon nem nuong which you should definitely try. The dish comprises of savory grilled pork being wrapped with different types of vegetables in rice papers and dipped in a special source. Yummy!
Here are some famous addresses to try local cuisines in Quy Nhon:
Seafood in Quy Nhon

: Along Xuan Dieu St., Around Eo Gio Area

Banh trang cuon nem nuong

: 113 Tang Bat Ho St.

Rice noodles with fish

: 379 A-B Nguyen Hue St.

Sweet porridge (as dessert)

: 157 Ngo May St.

Jellyfish hotpot

: 318 Phan Chu Trinh St.

Street food in Quy Nhon

: Along Ngo Van So St.
Nightlife in Quy Nhon
Quy Nhon might not be the most bustling city for nightlife, yet there are still things you can do.
Locals often gather around the beach in the evening to enjoy a cold beer, have a nice stroll or try some street food. Surf Bar (opposite to Saigon Quy Nhon Hotel) is a nice beach bar with live music. You can also go to the central city square to watch local people dance, play and do exercises. 
Swimming: Are there sharks in Quy Nhon beach?
There used to be some accidents involving sharks in Quy Nhon Vietnam. However, just follow your common sense and you'll be alright. Don't swim too far away. Don't swim where nobody else's near you. And don't swim in areas not recommended by the local security officers. I actually have not heard of any other shark attack in Quy Nhon for several years now.
Include Quy Nhon in your Vietnam itinerary!
If you're building an itinerary for your next Vietnam trip, do not forget to include Quy Nhon! Here's a recommended one-month Vietnam itinerary for your reference.
–> Pin this for your future trip to Quy Nhon, Vietnam
Note: This post contains some affiliate links but don't worry! You won't be charged anything extra by booking via these links.